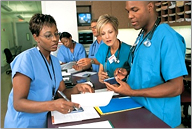 1. Same-Day-Review
Submit your answers before 12:00pm PST and receive your results and possible provider card the same day!
2. Based after AHA
Both exams have been designed after the AHA PALS manual.
3. Official PALS Manual
Both PALS courses have been created after the American Heart Association manual.
More Info
4. Free Card Shipping
Receive a free hard copy PALS provider card with free priority 3-5 day shipping.
5. 100% Online Exams
Both PALS exams can be completed entirely online. No in-person evaluation is required.
6. No Time Limitations
Both exams are not timed and there is no required timeframe to complete. Complete at your own pace.
Hide this content.